Author: Mark Fischer, Jr.
Posted: Sep 6, 2019

Sharpie Stainless Steel Pen Refill Hack
Backstory
If you have owned a Sharpie Stainless Steel Pen, you will know two things. The first thing you'll know is that it is the most perfect pen ever invented and no other pen will ever compare. The second thing you'll know, or find out, is that both the pen and the refills have been discontinued by Sharpie.
WHY SHARPIE?! WHY WOULD YOU DISCONTINUE SUCH AN EXCELLENT PRODUCT???? WHY DID YOU DO THIS TO US?!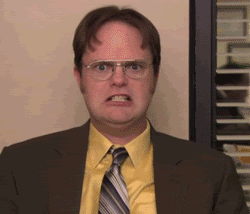 Ahem. Anyway… after realizing that refills are now $812.91, I decided to try to figure out if I could find an alternative way to refill them. Below are instructions for creating what I call the Sharpie Stainless Steel Pen Frankenfill Mark I.
Stainless Steel Pen Frankenfill Mark I
Materials
Sharpie Stainless Steel Pen
Cross Selectip Porous Point Refill (Model number 8443)
Step 1: Remove the original Sharpie Pen refill
Remove the cap from your Sharpie pen. Grasp the stainless barrel with one hand and rubber grip in the other and twist to remove the original Sharpie refill.

Step 2: Disassemble the original Sharpie Pen refill
Grasp the rear cap of the Sharpie refill with a pair of pliers. Pull firmly to remove, it's press fit and shouldn't take much effort. Inside there is a plastic covered piece of foam with the nib sticking out of it, remove that. Also remove the metal nib by pressing the point down firmly on a hard surface.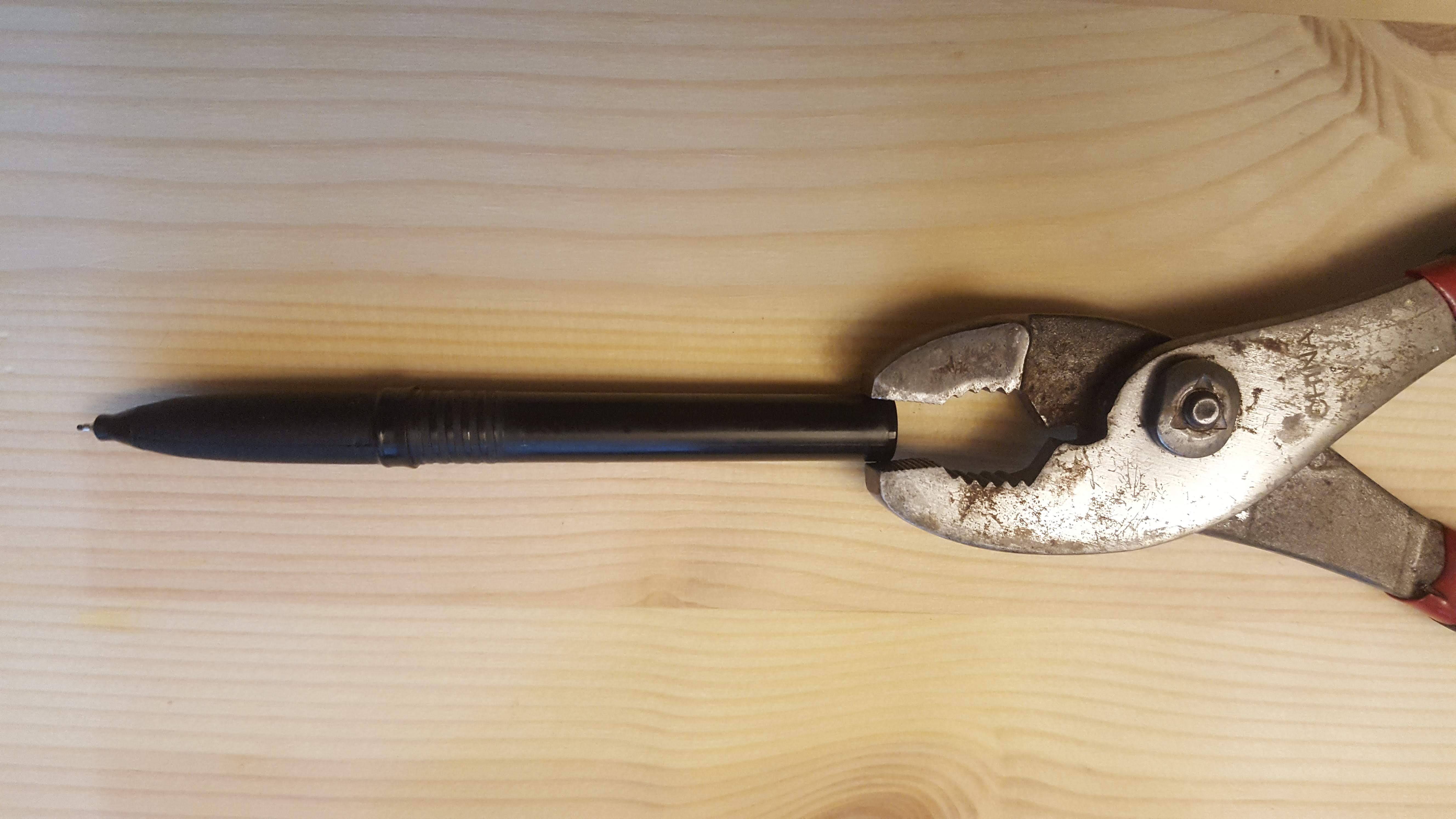 Step 3: Insert the Cross Selectip refill into the original Sharpie
Insert the Cross Selectip refill into the carcass of the Sharpie refill. Press firmly until the nib is exposed. A little bit of the back of the Cross refill will be exposed, this is fine. The rear cap on the Sharpie refill can be discarded at this point.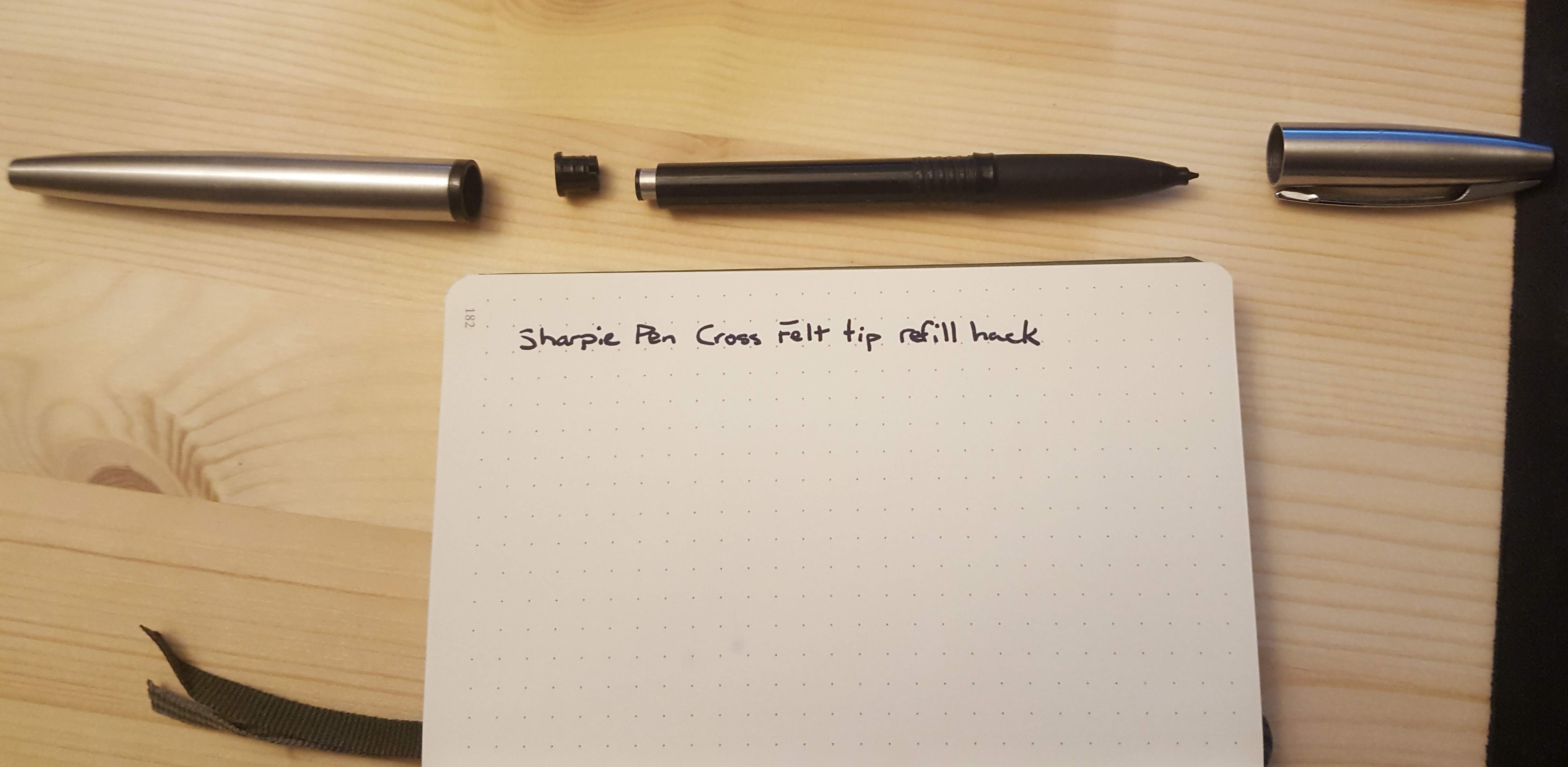 Step 4: Reassemble the pen
At this point, all that's left is to reassemble the pen.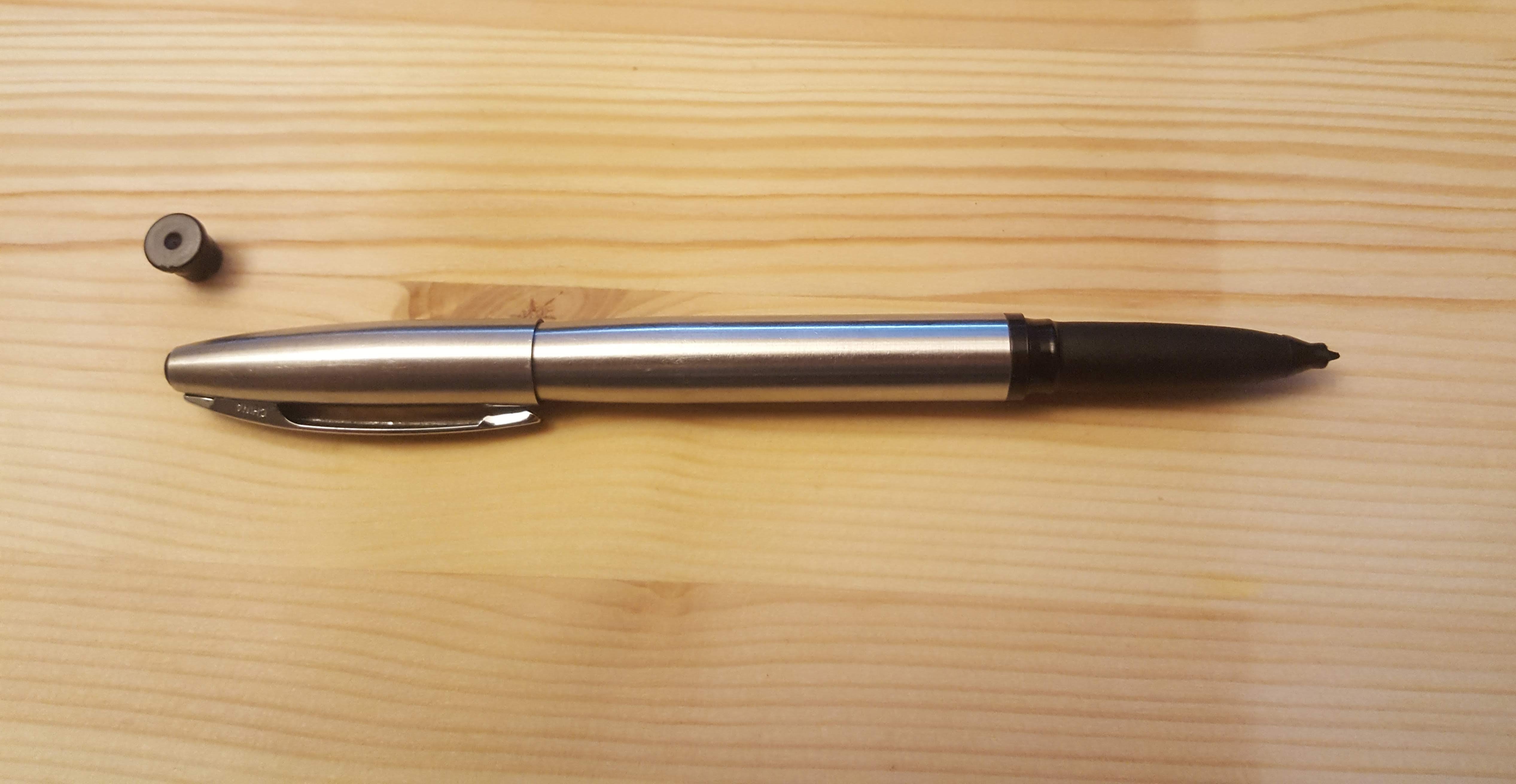 Review
I'm satisfied with this as a first try and it does give me hope that my Sharpie Stainless Pens have a future. However, although the Cross refill is very pleasant to write with, it has a couple key differences from the original Sharpie pen. The first difference is that the ink is much darker and less fine. The second difference is that it bleeds more. Below is an image comparing the two from the front and back.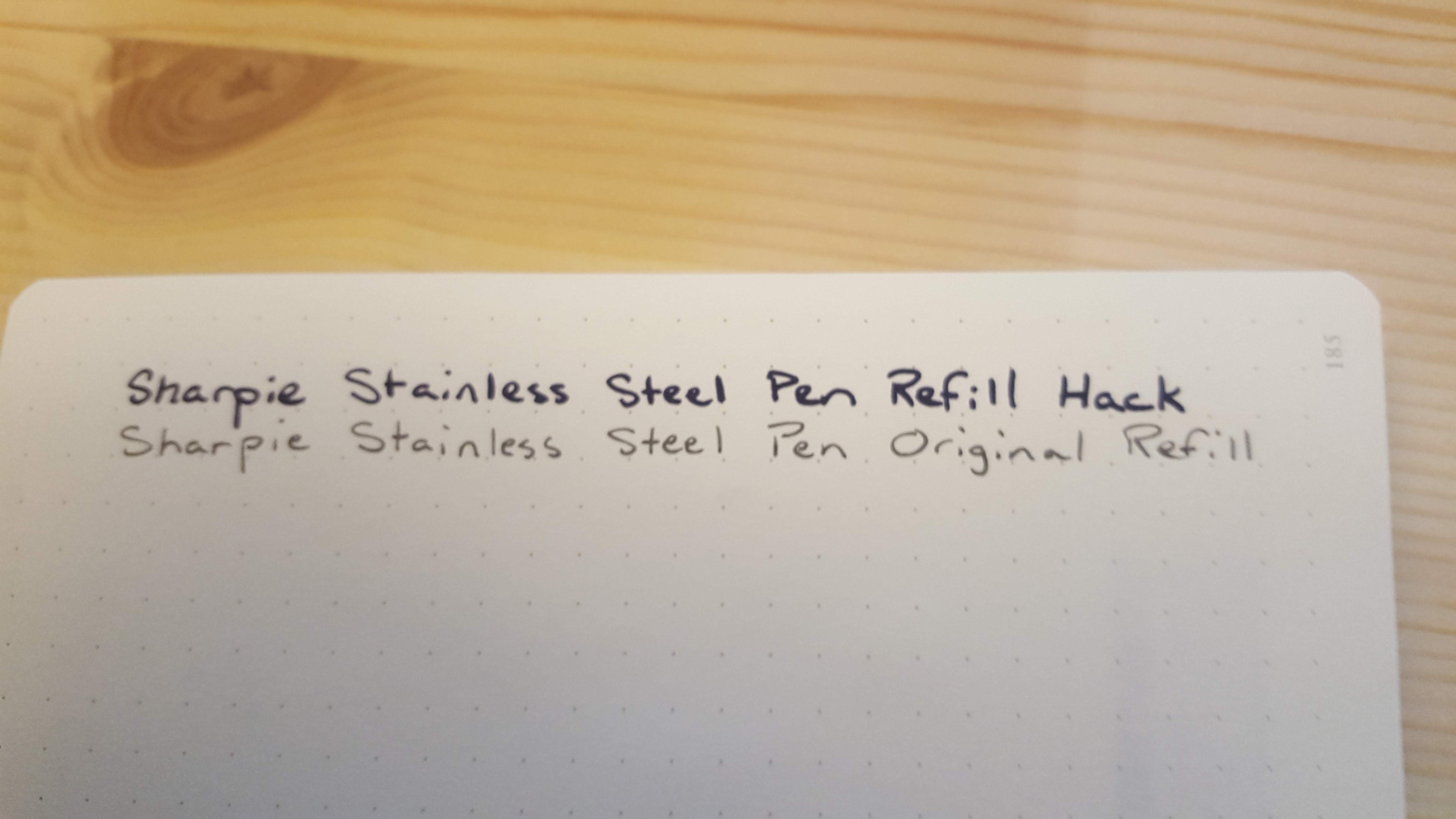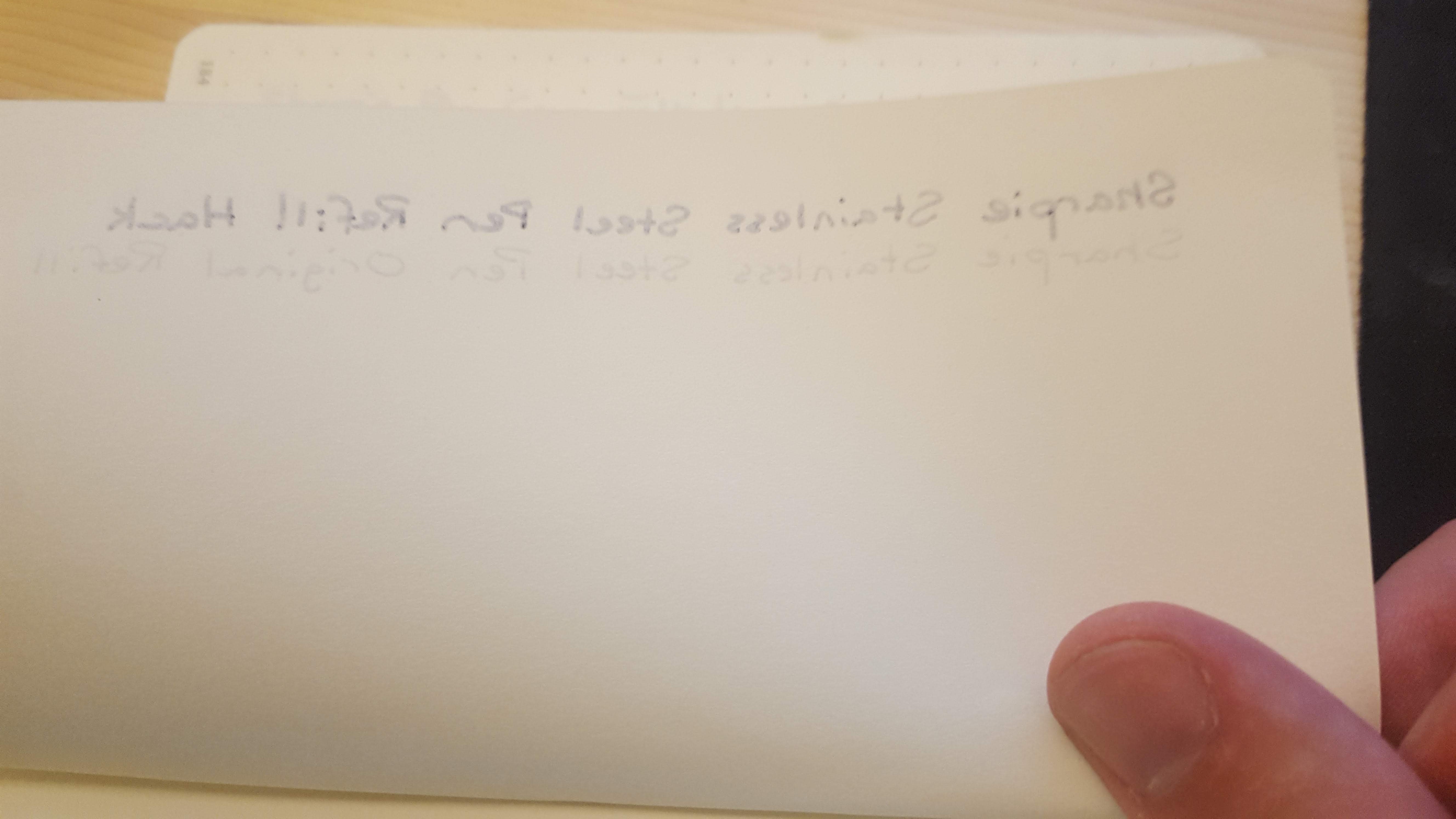 Future Plans
I'm currently searching for a felt tip refill that matches the properties of the original Sharpie pen a little more closely and will hopefully be posting an update in the near future. However, I am happy to say that I have found a way to use standard pen refills in the Sharpie Stainless Steel Grip Pen and I'm hoping to get several more years of use out of my current Sharpie pens. Maybe some day Sharpie will bring the pen back to production, but until then I hope this guide helps others wondering how to continue using their Sharpies.